Did you know that most of the big name software companies provide discounts and freebies for 501(c)3 nonprofit organizations? Be sure to do some research before you buy any software, there may be a great discount out there for you. Even 15% off the list price can be a significant savings over time. Each company has its own rules and restrictions, and offers may change over time, so be sure to check out the links below to learn more.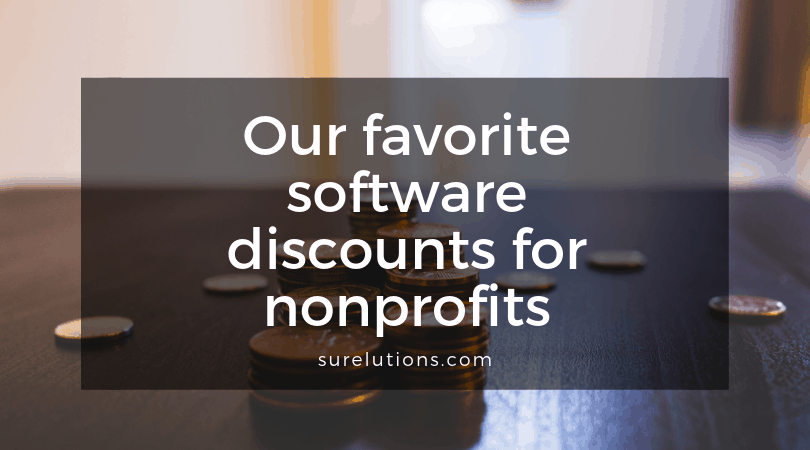 Here are some of our favorites, with links to the company's nonprofit information page:
A2Hosting (affiliate link) – our preferred web hosting company offers discounts for nonprofits, just open a support ticket to request the discount
Asana – project management
Adobe products – Adobe Illustrator, InDesign, Photoshop, Acrobat Professional, and more
Buffer – social media scheduling and monitoring
Canva Premium – easy digital design tool
LinkedIn – business networking for hiring and recruiting
Mailchimp – email marketing (discount at bottom of pricing page)
Microsoft products – Microsoft Office, Word, Excel, Powerpoint, etc.
Slack – team/staff communication
TechSoup – TechSoup is the gateway to many of these discounts and lots more. Once you are verified via TechSoup, your confirmation number can be used for many other discounts including Quickbooks, Shutterstock, Symantec, Amazon AWS and others . BONUS TIP: You can get other discounted services and hardware from TechSoup, such as computers and IT help.
Many companies also have discounts for schools, which are different than their nonprofit discounts. You can easily find any of these discounts by Googling the name of the software plus "educational discount" or "nonprofit discount".