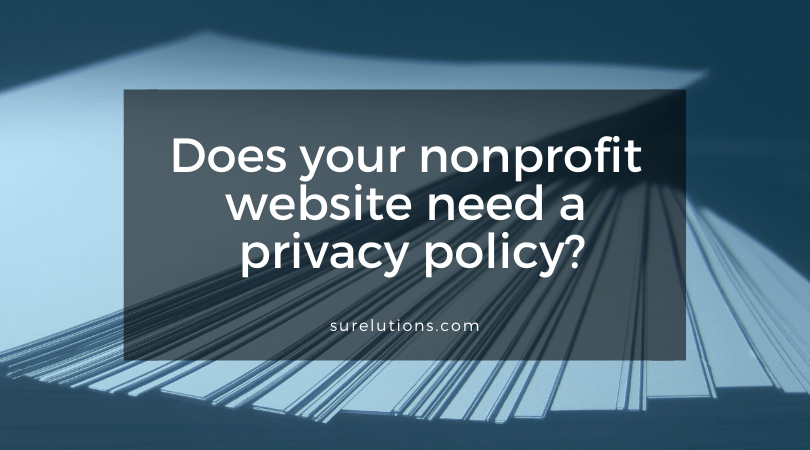 Let's cut to the punch line. If you have a website, you need a privacy policy and terms of service.
It may not yet be the law in your area, but likely will be in the near future. You should have a policy in place to notify your website visitors about what information you are collecting and how you are using it.
When do nonprofits need a privacy policy?
Does the European GDPR or California CCPA laws apply to your organization? (Yes, most likely.) How do you know if you're collecting any user info that you need to notify your website visitors about? (Nearly all websites collect data of some sort.)
If your organization's website is doing any of the following, you're collecting data and you should have a privacy policy and terms & conditions:
Contact forms or other inquiry forms
Google Analytics or other website traffic tools
Email sign up forms
Taking online donations, payments, or subscriptions
Linking over to third-party websites( including social media!)
The current laws have a lot of layers to them, regarding site traffic, reach, size of your organization, etc. So it's possible that the laws don't apply to you yet, but I would strongly encourage you to get ahead of this rather than be left behind and vulnerable to a lawsuit.
We're not lawyers here at Surelutions, but we want to be proactive about this issue and provide resources to help you. So we've partnered with Privacy Policy specialist company, Termageddon. When you sign up for an account with Termaggedon, you fill out a questionnaire to share the types of information you collect, and the tools you use to do so. Or, if you are a Surelutions client, we make it even easier for you. Then, with your answers, they will generate the policies you need added to your website. Best part is that THEY keep track of all the new laws cropping up, and include updates to your privacy policies when the laws change.
How do I get a privacy policy?
For Surelutions clients, we will be checking in and asking each organization whether you'd like to:
Request our help in getting set up with Termageddon's auto-updating policies, and adding the appropriate links to your website;
Plan to use an attorney and will be providing us the documents to add to your website (or perhaps a hybrid solution where your attorney reviews the policies we help you generate);
Or, are opting to not to have a compliant Privacy Policy (not recommended!)
For nonprofit organization who are not Surelutions clients, but need an updated privacy policy, terms and conditions, disclaimer, or other, I encourage you to consider these same three options. If you'd like to sign up for Termageddon and set it up on your own website, visit their website at Termageddon.com.
---
---
NOTE: As an agency partner with Termageddon, we will receive a small commission if you decide to sign up for their services after clicking through to it. We only share links to products and services that we personally use and have found to be reliable and high quality.