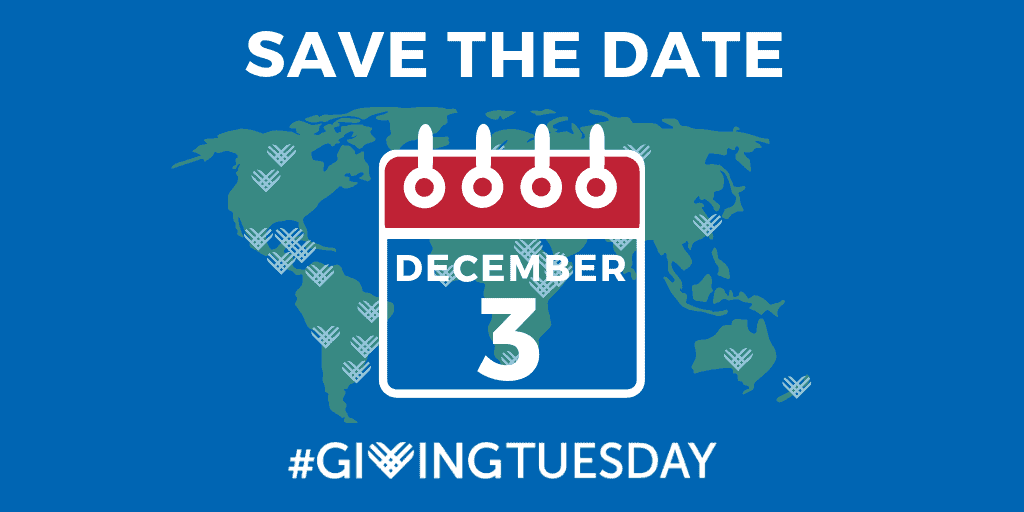 Giving Tuesday is December 3, 2019. Are you ready?
Yikes, you have a lot on your plate this month, don't you? Don't worry, we've got your back. Use this handy Giving Tuesday checklist to make sure you have your website and social media working together. Use this as is, or use it as a starting place to add, edit, and tweak to your organization's needs.
Giving Tuesday is one day of promotion, but be prepared to do the prep, launch, and follow up. Many nonprofits use Giving Tuesday to kick off the rest of their end of year appeal season.
Too busy? There's no law that says you have to do anything for Giving Tuesday. The simplest approach is to double check that your Donate button is working and easy to find throughout your website, and then share the link with a #givingtuesday hashtag. Done and done.
Ready to get started? Here's what we recommend:
1. Prepare your assets
Assemble your team of individuals who will be taking care of each task and who will be leading the charge. Decide who will be doing what, and how will you keep each other updated.
Create graphics needs for social media and your website. The Giving Tuesday website has many graphics you can use as is, or integrate with your own brand/designs. You will need a variety of sizes, including (1) Square (2) Various rectangular banner sizes. A clever design can be used in multiple places.
TIP: If you're using an outside designer and/or web expert, be sure to get on her schedule as soon as possible. You're not the only organization who needs end of year design projects!
Prep your branded donate page - Make sure your Donate page is working as it should and tells potential donors what they'll need to know to donate to your organization
Prep your thank you page to make donors are getting the right message after they donate
Review your thank you process and make sure Giving Tuesday donors are added to your donation database, receive thank you letters or follow up, as per your organization's process.
Gather photos, images, videos, testimonials, about your impact, reach, and share on social media throughout the month. Use what you have, don't overthink it.
2. Write your content
Write a blog post about Giving Tuesday - schedule ahead of time to publish Friday after Thanksgiving. Post should link to your Donate page. Be sure to use compelling image that goes with the post that will be posted along with your link on social media
Email blast warm up - schedule a post to be delivered Tuesday or Wednesday before Thanksgiving to give thanks and prep audience for Giving Tuesday
Email blast for event - schedule post to go out on Monday for Giving Tuesday - this can be the same or similar content as your blog post and link directly to your donate page
3. Monday (or earlier as you wish): "Tomorrow is Giving Tuesday…."
Update the home page of your website - make sure the link to your Donate page is prominent and easy to find.
Facebook post - linking to your Giving Tuesday blog post
Facebook banner for Giving Tuesday - put link to your Giving Tuesday blog post in the caption
Instagram photo - compelling photo(s) with Giving Tuesday and your organization's branding. Link will likely go to your home page or your donate page in your profile description
Twitter post - compelling brief description, image, and link to your blog post or donate page directly
Other social media (YouTube, SnapChat, other channels you're already using) - follow same guidelines as for FB, Insta, Twitter.
4. Tuesday: "Today on Giving Tuesday…."
Reiterate Giving Tuesday message on all channels. Be sure to use #GivingTuesday hashtags.
Use a variety of post types -- text, links, gifs, videos, images
Monitor all your channels and be sure to engage with your supporters
5. Wednesday: "Thank you for your generosity and continued support…"
Website - Update Giving Tuesday graphic/messaging to general donation message and leave up for the week (or longer)
Social media thanks - Thank people and share how their donations help.
Resume regular social media posts  - Continue with normal messaging and make sure that Giving Tuesday graphics are swapped out with something less date-specific.
6. Following week
Review website, social media, and update messaging as needed - Some organizations leave donation messaging throughout the holiday seasons.
Website - add new blog post so Giving Tuesday isn't the most recent post.
Social media - Continue to share stories about your community, how you're helping, how others can contribute.
Don't reinvent the wheel. Focus on what you do best.
Two important things to note if this feels overwhelming.
You don't have to do it all. Do what works for you.
Take this list and season to taste. If you don't use Twitter, skip it and focus on the channels where you are already communicating with your audience. If your entire staff is gone with week of Thanksgiving, then adjust the timing as needed. The beauty of having a checklist is that you don't go to your website sometime in mid-January and realize you forgot to update your Giving Tuesday message from back in November!
If you're busy, don't start from scratch. Use existing resources.
The Giving Tuesday website has a complete toolkit with suggested content and graphics you can start with.
Cheers to a happy and stress-free Giving Tuesday!
Thank you for all you do in your community. We hope you have a successful Giving Tuesday and holiday giving season.