Nonprofit organizations vary greatly in their size, structure, mission, and marketing/development plans, but all of them need effective and useful websites. Whether you are considering a new design, starting from zero, or looking for ways to make some gradual improvements, refer to this checklist to make sure you have all the basics covered and are clearly communicating your programs and mission.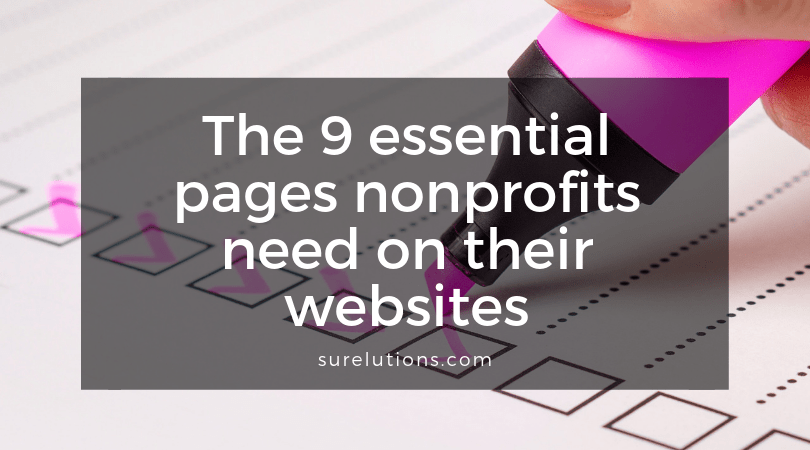 While most sites are significantly larger than 9 pages, these are essential pages we recommend every nonprofit have on their website:
HOME – Your home page gives you a 5 second opportunity to connect with your audience. Give them a clear snapshot of who you are, what you do, and what they can do next (learn more, contact you, donate, get help, etc.)

DONATE – Every nonprofit needs a donate page that clearly spells out how people can give you money. You should have a way for people to donate online, but if that is not feasible right now, make it as clear and easy as possible for them to give you money. If you accept in-kind donations, include that information AFTER the main donate section, or linked to a separate page.

WHAT WE DO / HOW WE HELP – This page will describe your programs and services. It will be a longer and more flushed out version of what you summarized on your home page (and that your home page visibly links to). For most nonprofits, this is actually a section of their website with multiple pages highlighting different services. An effective way to display this type of information is to consider it an "internal home page" or a landing page which will guide people through the process of learning about your organization and then engaging with you in some way.

GET INVOLVED – This page should describe the volunteering aspect of your organization, or if you don't use volunteers, how can people hep other than donations. Perhaps they can sponsor a team, or display a yard sign, or join your mailing list. Spell out what you need (office help, heavy lifting, drivers, etc.) and who can help (a corporate team of volunteers, retirees, high school students). If you use volunteers extensively, ideally your Volunteer page could be set up somewhat like a job listings page.

PEOPLE / LEADERSHIP – This will vary by organization, but most nonprofits list their board members and key advisers on their website. Whether you also list your staff will depend on the type of organization you are. Some nonprofits list their leadership staff, others like to highlight their public-facing staff who will welcome people to the organization or directly provide services to individuals (counselors, front desk, teachers, program directors, etc.) If the personable aspect is important to your mission, then photos are a great addition rather than just a list of names.

EVENTS – Most nonprofits have events of some sort, typically fundraisers or recognition events. These events should be very easy to find on your website, and be the go to place for all your event marketing (e.g., "Visit yourwebsite.com/awesomevent for details"). You don't necessarily need a fully functioning digital calendar if you only have one or two major events each year, but all your major events should have an intuitively easy-to-find place on your website.

SPONSORS / DONORS / SUPPORTERS – Sponsors love recognition and goodwill, and having a dedicated page on your website is the best way to do this. This page can include your grants, sponsors, in-kind donors, and all. It's not only a nice gesture to give a shout out to donors, but seeing who else gives may inspire others to step up and donate as well. The sponsor page should have a very clear link to your "How To Donate" page.

NEWS / BLOG – Many nonprofits shy away from having a "blog" because they don't know what should go on it. In the case of a nonprofit website, a blog takes on a lot of very important roles. It should be the go to place for any and all news, updates, or other information you want to share with your audience. Sending out an email newsletter? All that information should be on your blog. Promoting a class or event? Add a blog post with that information and link to your event page. Hiring staff? Add a short news blurb about it on your blog. Want to thank donors after an event? Add a thank you to your blog. Anything and everything that you are communicating and promoting to the outside world can be on your blog.

CONTACT – Your contact page should have a simple form that sends to email (or your CRM), as well as your location, hours, phone number, email, and social links. It's sometimes useful to have a few "Frequently Asked Questions" on this page as well — especially if you get the same questions over and over.
AND… Clear and Concise CTAs
Once you have the "Who we are and what we do" covered, the most important part of your website is your CTA — Calls To Action.
CTAs are usually set up as clear and distinct buttons on every page of your website. Sometimes they are placed in the header, footer, AND body content. Examples include Donate, Sign Up, Buy Tickets, etc.
Pro Tip: Always be asking yourself, what are the most important actions that our website visitors will take, that will ultimately help our organization grow and fulfill our mission?
Next Steps
Using this checklist as a guide, take a look at your website and see if any of these essential pages are any missing, outdated, or redundant. Put yourself in the mindset of someone who doesn't know your organization or mission, and ask yourself these question as you review your website:
Are your most important pages easy to find?
Do you have clear calls to action (CTAs) throughout the site?
Asking these two questions is an excellent first step to put you on the right path to making plans for improvements, whether big or small.
Pro Tip: If you hire an expert or agency to help with your website, choose someone who has a process to guide you through answering questions like these (and many more) from the beginning. Nonprofits don't have budgets to waste, and your website should be benefiting your organization, not a source of frustration.