When we kick off work on a new website project, we begin by asking our client questions such as, "Where is your domain registered?" and "Who is your web host?" Sometimes, they sheepishly admit they have no clue. It reminds me of the time I had an HVAC repair person come out to fix our furnace and he asked, "When was the last time you changed your filter?" To which I replied, "Ummmm……filter?" (Most of you are probably laughing at me, I know.) But I mean, how would anyone know what they don't know?
I certainly don't expect a client to have the same level of knowledge about websites that we do. You hire an expert for a reason, right? However, on the topic of both websites and furnaces, there are some basics you should understand so you know what you're being charged for and what needs maintenance.
With that, I'm writing a series of Website 101 posts for nonprofit organizations and small businesses to help you understand the basics elements of your website:
Domain names
Email addresses – coming soon
Web hosting / platforms – coming soon

Website backups & security – coming soon
First up…. domain names.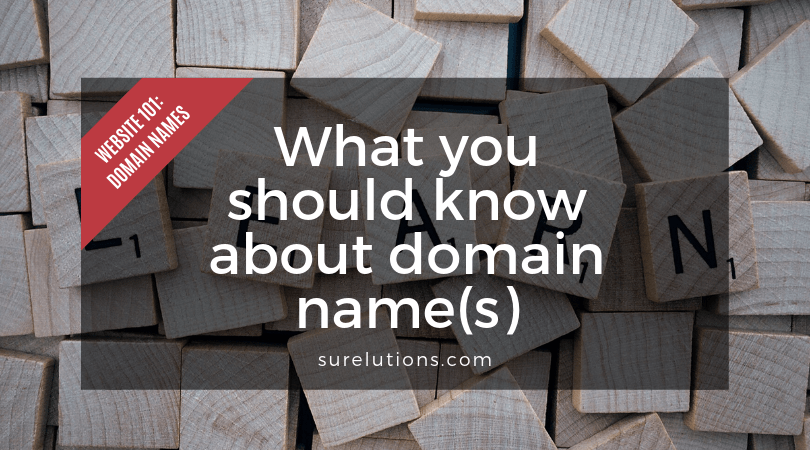 What is a domain name?
If you have a website, you have at least one domain name. For example, our domain name is surelutions.com. Domain names have a suffix or extension such as .com, .net, .edu, .org.
You may own more than one domain. In most cases, extra domains forward to your primary domain. If your domain is yourawesomebusiness.com, you might also own yourawesomebusiness.net. Similar domains are typically purchased to prevent others from using them or predict common misspellings of your business name.
Domain names should be purchased in the early stages of planning a website. There is an entire sector domain resellers who buy domain names they expect may be useful to others, and sell them at a premium price. Good domain names are hard to come by, so if the one you want is available, buy it immediately. They are inexpensive, and you can always cancel it later if you change your mind.
Domain names are purchased at a domain name registrar. Examples include Domain.com, Namecheap.com, GoDaddy.com, and Name.com. Domains typically run between $10-20 per year. You own the domain as long as you continue to pay for it and you are listed as the site owner (read more about that below…)
What you should know about your domain name(s)
As a nonprofits organization or small business, what you really need to know about your domain name is:
Who is the primary contact on your domain name (surprise: it might not be you!)?
Who is your domain registrar (and how to log in to the account)?
What domains do you own?
When and how much are you being billed?
It takes some detective work to track down and organize all this information. The first thing to do is search the internet's WHOIS database for your domain name. This is a worldwide directory of domain names where you can see what public information is available about your domain name. Print out your WHOIS information and keep it for your records.
1. Who is the owner on your domain registration? It might not be you!
Your business should be listed as the "Registrant Contact" for your domain. By law, the Registrant Contact has ownership of the domain. The "Admin", "Technical" and "Billing" may be the same contacts, or they might be different if you have someone else managing your account. For example, as someone who manages a lot of client websites, I might be listed as the Technical contact, while my client should be listed as Registrant/Owner.
The big problem you may encounter is when someone no longer associated with your organization is listed as the Registrant. I've rescued many websites that were registered by a long-gone volunteer or former employee, and it's a huge hassle. A hassle that can easily be avoided if the account had been set up correctly from the beginning, or had been reviewed and updated annually. When owners or site managers change, it's important to update this information immediately.
2. Who is your domain registrar, and can you log in to your own account?
The domain registrar is the company where your domain is registered. Sometimes that is the same company where your website is hosted, but it's not usually the company who provides your internet services. Your domain has an annual fee, so if you are the primary contact on the account, you should have an email receipt of this transaction — you may find it with a quick search in your email for "domain renewal" or "domain registration".
Check your WHOIS information for the registrar information, and then search your email for messages from that company. If you know your registrar, and you are main contact for the domain, you should have enough information to log into the account — you may have to use "forgot my password" to reset your login credentials. Once you are logged in, you can make any updates necessary.
3. What domain names do you own, and are they pointing to the right place?
If you have a website, you have at least one domain name. Do you own others? If so, are they forwarding to your primary account? Are there others you should own, such as variations of your business name?
For the domains you own, check the WHOIS records for each one to make sure the contact information is correct, note the registrar for each, then print it out and keep it with your other important business records.
For the sake of streamlined record keeping, it's simplest if all your domain names are registered and managed under one account. If that's not practical, then try to at least get them under one registrar, even if you need to use different accounts.
4. When does your domain expire or renew?
Domains are paid for in 1-year chunks, but you can buy multiple years at a time. Some people like to buy domains for 10 years out, which is fine in theory, but the downside is that it's all too easy to forget about it. I prefer to purchase domains for 1-2 years, and get the yearly reminder of the renewal. You can expect to pay between $10-20 per year for your domain. Some are cheaper, some more expensive.
Most importantly… Don't let your domain expire!
Make sure your domain is set up to renew automatically, and that your credit card information is up-to-date. An expired domain will have a few days' grace period, but if you let it expire, it no longer belongs to you and is put back up for sale.