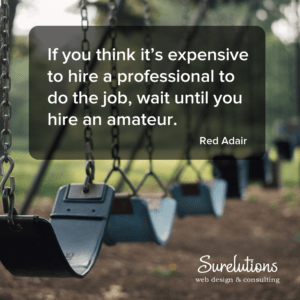 How do you know the person you hire will do a good job on your project? Unless your crystal ball is in working order, you can't really know for sure. But there are some steps you can take before hiring someone to make sure they are experienced and have a good reputation.
As with all things, it's about trust, a good relationship, and doing your homework. As a small business owner, you probably don't have a 6-figure budget, but you certainly want to hire someone who knows what they are doing. (P.S. those 6-figure budgets don't always get what they pay for either). But sometimes it's difficult to tell who is authentic, experienced and really knows their stuff vs. someone who is a good talker, took a class or two, and owns some software.
If you're hiring someone for a website or print design project, it's a sure sign that you care about the results. So don't just hire the cheapest or first person you come across. Do a little bit of research first. Here are some questions to ask and homework to do before hiring someone for your next project:
1. What comes up when you Google them?
What kinds of listings come up when you Google their business name and individual name? Are they what you'd expect? My own preference is to look for folks who are involved with their communities, because it's a good sign that we are like-minded, so I like to see listings pop up that show they are involved with nonprofit events or projects. Are you seeing listings that are inline with your values and interests?
If you can't find them on Google at ALL… or the listings that come up are questionable, find someone else to work with. It's much easier to work with someone who you like, feel connected to, and have common ground.
2. Can you find them on social media?
If yes – are their profiles well written and describe what you want to hire them for? Most established professionals will be on LinkedIn and Facebook. It's more of a personal choice for each person whether they are also on Twitter, Instagram, Pinterest, YouTube, Snapchat, Tumblr, etc. If you find them on social media, but the content they're sharing is questionable, move along to the next person.
If they are not on social media, why not? Are they in an older generation or outlying demographic that just doesn't see the point? Are they anti-establishment and don't "buy in" to the whole social media thing? Decide whether that reason meshes with your own approach, and your business goals and customers. If you know more than them about design and marketing (print, social or digital), why are you hiring them?
3. Do they have a professional looking website? 
If you're hiring someone to design your website, and they don't have a website at all? Stop right there. Yes, it's possible, but it can be a red flag.
If their website looks amateurish, would you feel confident having them do any better on your project?
Do you like the examples in their portfolio? Does their style mesh with your style? I've been on websites that are very edgy — bold, dark colors, a few curse words thrown in, and very up front and abrupt. I love how they are being true to themselves, and attracting a specific like-minded type of client. But for me personally, I wouldn't feel comfortable hiring someone with a website like that because my own style is nice and polite.
Side note — Many designers (including myself) are guilty of not keeping their own site updated, but it should be reasonably modern and well designed.
4. Where are they located? Can you meet in person?
If you can't find their location on their website, they might be a reseller who is outsourcing overseas. That may or may not be important to you. Personally, I like to hire local, or at the very least, hire contractors who are U.S. based.
Do you want to work with them face to face, or are you comfortable with phone calls, email and Skype? I have plenty of clients who I work with remotely, and it works quite well. But it is dependent on everyone being tech savvy and comfortable communicating via email, phone calls, Slack, shared to do lists, etc.
This is not a hard an fast rule, just a personal preference for you as the business owner, and the type of business you have. When working with a locally owned store, for example, I like to be able to physically walk in the store and get a sense of the mood, featured products, vibe, priorities, etc. When working with a consultant or digital company, that's not a priority.
5. What is their expertise, and how long have they been in business?
Unlike hiring a plumber, mechanic, or even a hair stylist, there is no licensing or formal certification enforced for people to call themselves a web designer or graphic artist. So anyone who has a computer and some software can claim to be a pro. Doing some research, ask around, and talk to them about their years of experience, number of clients, and expertise with design tools, can go a long way to choose the right person.
A quick note on that topic: a professional graphic designer will have invested in premium tools for their business and use the industry-standard Adobe products such InDesign, Illustrator, and Photoshop. If they are using Publisher, Word, or cheap / free alternatives as their every day tools, or say they "can't afford Photoshop", that is not a good sign.
6. Does it matter to you whether they have an established office that you can visit? 
Do you have a preference to work with a freelancer who works from home or a larger company with an established office? You may pay a higher fee to an agency with a boutique office than you would for someone who works from a home office. It doesn't mean one is better than an another, but it is something that you may have a preference for.
7. Are they active in their community?
If they are active not only in their local community, but also in their design or developer community, you can tell that they are proactive and eager to help and continue learning. Some good examples include being a sponsor or member of any local nonprofits, being a member of their local or regional Chamber of Commerce, attending industry events and conferences, sharing knowledge on their social media channels.
For web designers who use WordPress, participating in a WordCamps is a good sign that they are keeping up with technology and best standards.
8. How much design input and management time are YOU willing to invest?
A professional will not need to be micromanaged. An inexperienced person may need you to describe in detail how you want the design to look so they can just produce it, rather than having any creative input of their own. If you are willing to invest the time in that process, you may be doing someone a favor by providing them experience as they grow as a professional. We all have to start somewhere, after all. But if you want someone who can take a seed of an idea and build on it with their own creativity and expertise, you'll want to choose the more experienced person.
How much is YOUR time worth?
9. How much will it cost?
You may be on a budget, but how much of your time are you willing to spend to get it right? If you go too cheap, will you be unhappy with the outcome? Will you then need to hire someone later to make it better? I've often heard, "I thought I'd save some money by hiring so-and-so. But this is what they came up with — I could have done that myself. Can you fix it?"
Consider whether it's a better investment to pay a professional $100 an hour for 3 hours, than pay someone $10 per hour for 25 hours. The higher rate will likely lead to a better finished product.
Be sure to clarify if you will be charged by the hour or by the project. Things to consider: an expert works faster, so should they be paid less? A newbie works slower — are you fine with paying for their learning curve? If you have a specific budget in mind, are you comfortable talking money with the designer? If not, maybe there are some trust issues that are red flags.
10. Are they asking a lot of questions?
Who is doing most of the talking? Are they giving you a sale pitch, or are they listening to your challenges and goals and asking a lot of questions about your business? Don't let anyone walk in your front door and tell you that you're doing things wrong or "missing out" and they can magically fix it for $$$$.
Unscrupulous SEO and AdWords companies (they are not all bad, but there are a lot of bad ones), and companies like Hibu and Yellow Pages are notorious for sweet talking small businesses into thousands and thousands of dollars of expenses without really knowing what problems you're trying to solve or whether that investment will help you make more sales. They tend to make a business owner panic — "omg, I'm not listed on 1,000's of directories??" But please be sure that your $1,000-$10,000 investment will bring you that much in extra sales before you sign that contract.
Every conversation I have with my clients and partners has a lot of "Why's" in it. What customers are you trying to reach? What problem are you trying to solve? Who is this design for? What are you trying to achieve with it? How does this impact your sales? Will this be used for any other purposes — print, web, social media? I wouldn't be surprised if they were a occasionally impatient at my 20-questions approach, but to me we come up with amazing solutions when we focus on collaborations, not transactions.
Most importantly… Trust your gut
Most small businesses like the idea of supporting a freelancer or fellow small business, but you have to do some research first to make sure you're not hiring someone just because they have the best price or are the first person you found. Making the wrong choice can be a costly mistake, in terms of both money and stress.
I'm a strong believer in good old "gut feel". If you really, truly like them and their approach, and feel like they are a good fit for your company, it's a great sign. If all the research and questions you asked are fine, but something just doesn't feel right, then just simply say thanks but no thanks. For what it's worth, that happens on both sides of the relationship. Designers ought to turn down projects or clients that don't feel right to them, too.
Remember to do your homework, and make the decision that feels right to YOU.